Most Popular Promotional Product Categories
Bags
Bags continue to be the most popular promotional product selling right now. There are many good reasons for this. So many states have banned plastic bag usage, basically forcing people to reuse their totes for groceries or pay for a paper bag that tears when you put the groceries into your vehicle. So, why not get the best bang for your buck with a reusable tote bag with your name on it. Use a large logo as most bags offer huge imprint areas for you to promote your business or company name. Bags are seen everywhere as they are used and reused making your promotional dollar count! We always suggest darker colored bags to promote with as they show less dirt and clients will be more likely to use a bag that looks nice than one that is looking dingy. (Just something to think about).
Our grocery totes and other useful totes come in tons of different colors and sizes. Always choose a gusseted bag if you want customers to reuse it as the gusset opens at the bottom of the bag making it able to hold so much inside. Here are a few of our top sellers: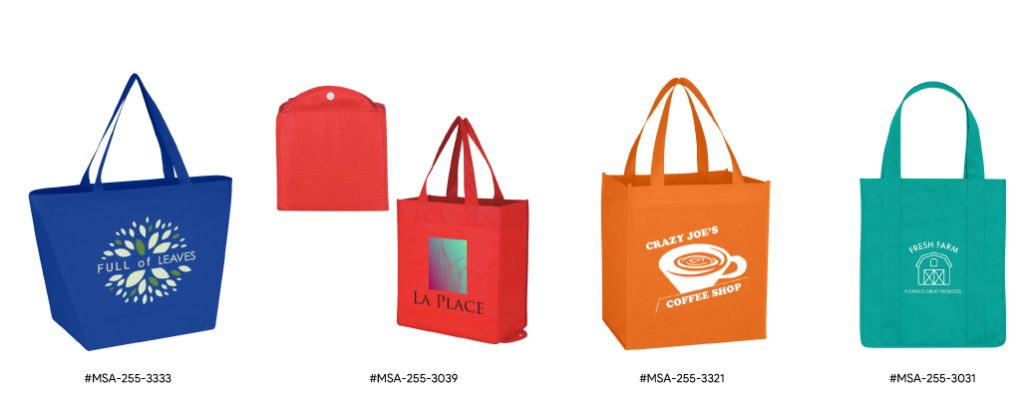 Shirts
Shirts are always a top giveaway in business. Large imprint area for your logo and people DO READ the info on people's shirts. White shirts are always the least expensive so keep that in mind. When purchasing darker colored shirts you may need to pay for flashing which is basically imprinting the shirt twice so you can see the logo and imprint. This is very common to do when you have a white imprint on a black shirt. Just a helpful hint so your logo and artwork do not look distressed.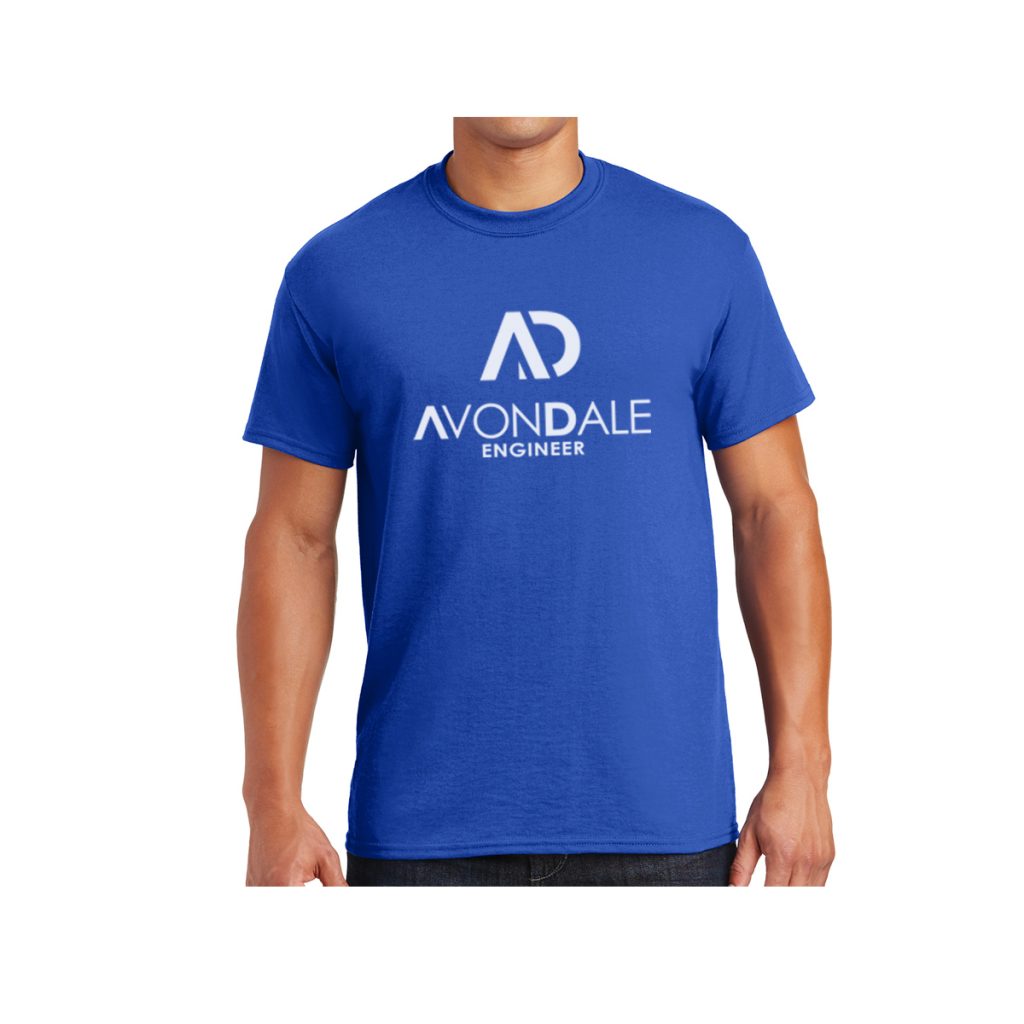 We also offer polo shirts(Men's & Women's) with screen printing and embroidery. There are so many choices, you can call us at Myshopangel Promotional Products and a friendly sales representative can help you decide what fits your need and budget.
Pens
Pens are number three in the top sellers. Whenever you go out you are handed a pen. Whether you are in a bank, a restaurant, or a retail store. Pens are the perfect low-cost promo swag item you can go with. We offer many different styles and colors in many different price ranges. Did you know a pen travels to at least eight different owners in a lifetime? Pens certainly travel. A popular saying to put on them is "stolen from….." with your logo. This is a cute way to get noticed and get some new business coming your way. Myshopangel Promotional Products has many low-cost and upscale pens to choose from. We carry the BIC®, HUB™, and many more brands. Choose from the thousands of styles we have and remember some are offering free rush production if you forgot to stock up for that upcoming tradeshow or event.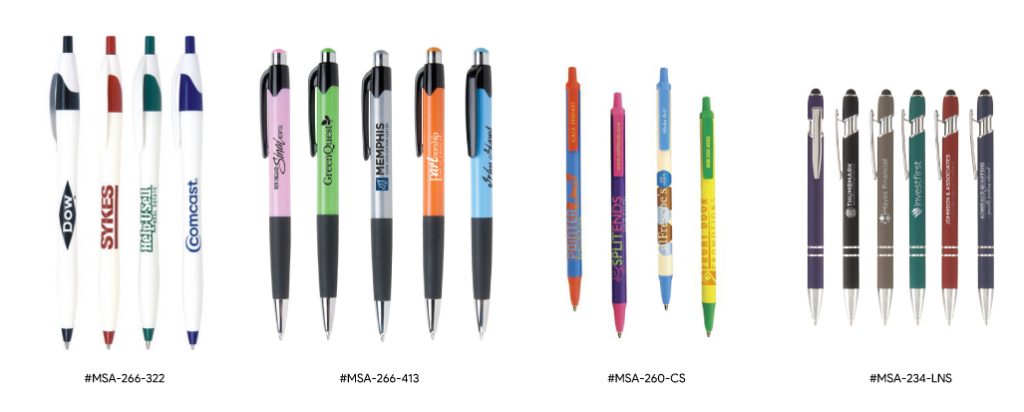 Mugs
Mugs are number four on the top sellers. Campfire mugs seem to be stealing the show with their awesome colors and speckled look to them. But the standard white mug is another low-cost way to get your name in front of your client. These mugs are used daily by clients and seen by many. These also offer a large imprint area and will catch the eye. We even offer full imprint color mugs! You can take a high-quality image and put it right on the mug, showing your staff, your family, whoever, or whatever you choose. The possibilities are endless with the full-color mug. Whether you want the white simple mug with one imprint color or the fancier campfire mugs, your client will be grateful for the gift and your advertising dollars will be working for you at any budget.

Can Insulators- Koozies®
These top sellers are so popular with warmer weather approaching. This is an inexpensive way to get your name out to everyone and this item will be used by the recipient. Coolies, Koozies®, can coolers, can insulators, or whatever you call them, they are foam or neoprene that wraps around your cold drink or beverage and keeps them cool longer. You don't need to be out on the lake to use these!
We have so many shapes and sizes to choose from. Feel free to contact a customer service rep to help you choose. Did you know we have can Koozies® for seltzer cans and tallboys too? We even have the Beverage Babe Bottle and Can collapsible insulators. These are perfect for Breast Cancer Awareness events, and we have sold them for bridal showers too. As I said, the options are almost endless.

So those are the top five sellers for you to check out. Feel free to chat or give us a call at Myshopangel Promotional Products for all of your swag needs. If you do not see it on the site, just contact us as we are here and ready to assist you with your upcoming marketing and advertising needs~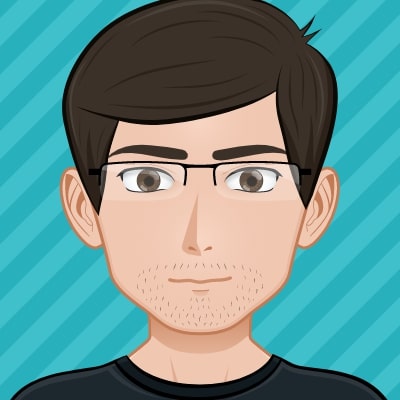 Graphic designer for the art department at MyShopAngel Promotional products. I've been with MyShopAngel Promotional Products since 2017.